Selling Your Home: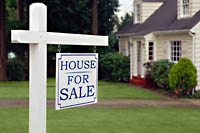 For most families, their home is their largest financial asset, and deciding to sell it is a big decision that involves a lot of preparation and work. When you're ready to sell it's important to have an experienced real estate professional handle the details involved in the successful sale of a home for top dollar.
As an experienced professional who has helped many of my clients in Vidalia and the surrounding area sell their homes, I know how to handle every aspect of the sales process - from strategically marketing and showcasing your home to making sure everything's signed, sealed and delivered by the closing date.
Doesn't your home deserve to be professionally marketed?
I believe in using all of the resources available to me to help in marketing your home.
My experience includes publishing as many as three different magazines each month, layout and design of marketing materials, print and electronic ads and coordination of sales/ marketing events for clients. In addition, I served as the Director of Marketing for Dempsey International, during which time I managed all the marketing and design for 13 Horton Homes Manufactured Housing Locations. I am proficient in web design and internet marketing so when we work together to sell your home or to find you a perfect new one, you are guaranteed I will bring all of my experience to work for you.
JUST A FEW MORE REASONS TO CALL TODAY TO SCHEDULE A NO OBLIGATION LISTING PRESENTATION:
-I was one of the First VIDALIA REALTOR™s THAT SHOWCASED THEIR LISTINGS ON ONE OF THE TOP SEARCHED REAL ESTATE SITES ON THE INTERNET, REALTOR.COM! This is important because it means that your home will stand out from other listings when potential buyers search for a home in your area. This premium service is just one way that I use to gain exposure for your home on the internet.
-REALTY NETWORKING, by developing good relationships with all of the agents in our area your home will actually be available to be shown by any agent in our Multi-List Association. I work with these other agents and provide them with materials they might need to present your home to their clients in the most favorable light. This includes making color sell sheets and other marketing materials available to them.
-ADVERTISING: I utilize lots of media to advertise your property, both traditional print as well as social media and digital marketing.
-AVAILABILITY: One of the most important things I have to offer is my time. I make myself accessible to my clients by promptly returning phone calls, emails and being respectful of your time. If you don't receive a response back from me within 2 hours trust that I did not receive your call or email and please call me again. This is a VERY important aspect of my business.
All I ask is for the opportunity to be considered before you make your final decision.

Give Me a Call today to set up an appointment, It's the first step you'll take to being treated like the VIP that you are!
Tammie Clarke Gibbs
Broker/REALTOR™
Lovins Realty & Investments Inc.

912-293-2899 Mobile (Best)
912-537-8885 Office
Providing you with comprehensive, high-quality listing service is my top priority. So when you decide to sell your home, please contact me and let's get started!